Alaskan Industries Served
Industries throughout Alaska are revered for their rugged toughness and ability to endure some of the world's toughest environmental climates and conditions. It is no wonder that most industries in Alaska choose Denali Industrial Supply for their tools, equipment, fasteners, and accessory supplies. Born and bred in Alaska, Denali understands what it takes to succeed in Alaska's unforgiving landscape.
At Denali Industrial Supply, we ship throughout the United States including all of Alaska. The predominant industries that we serve include mining, oil and gas extraction, HVAC, construction, property maintenance, and automotive. Denali Industrial Supply is your trusted outfitter of tools, equipment, fasteners, and specialty products. We're there when you need us!
Stop in and visit us at our Fairbanks or Anchorage locations, or if you have specific questions,
get in touch with our sales team
and we will gladly assist you. Denali Industrial Supply is your trusted source for high-quality industrial mining supplies, fasteners, tools, and equipment.
Mining Industry Equipment & Tools
Mining is an extremely laborious occupation that requires extreme grit and perseverance to get the job done right. Unlike national chain vendors, Denali Industrial Supply understands the rigors of living and working in Alaska's intemperate climate. That is why we are here to provide top-notch service to all our customers in the mining industry. We provide the following types of tools, equipment, and accessory products expertly designed for the
mining industry
: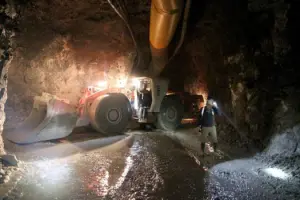 Specialty Fasteners
Abrasives
Tools & Accessories
Safety Equipment
Ladders
Heaters
Wrenches
Specialty Tools
HVAC Tools & Industrial Supplies
HVAC installation and maintenance are essential for homes, buildings, and other facilities. Proper heating, ventilation, and air conditioning creates a healthy and safe environment. Denali Industrial Supply's Fairbanks and Anchorage locations are fully stocked with
HVAC supplies including
:
​Teks Screws
Nut Drivers
Ladders
Fall Protection Equipment
Firestop Products
Tools
Flashlights
And Much More
Oil & Gas Extraction Supplies
Denali Industrial supplies
tools for many common oil drilling and natural gas extraction processes
. Our team of experts can help you furnish your company with tools and fasteners for every step of the process. Denali carries the tools necessary for many operations in the oil and gas industries. For the maintenance and performance of specialized equipment like oil drilling rigs, downhole mud motors, and top drives, we carry the tools necessary for the job.
Safety gear
Fall protection equipment
Absorbents
Impact sockets
Rags
Torque wrenches
Air impact guns
Construction & Property Maintenance Tools
The construction and building maintenance industries require the use of
proper tools
to provide enhanced worker safety and an improved quality finished product. Denali Industrial provides a wide range of tools necessary for construction and property management professionals. We supply trusted brands and models to ensure you're prepared for every job.
Power Tools
Hand Tools
Electric Tools
Maintenance Tools
Accessories
Auto Repair Tools
Denali Industrial carries an extensive inventory of
automotive equipment
for mechanics in Fairbanks, Anchorage, and across Alaska. We carry reliable brands and models to ensure that you're prepared for every auto repair. We carry a full line of both basic and advanced tools for your auto repair needs.
Screwdrivers
Wrench Sets
Hammers
Cordless Drills
Air Compressors
Rotary Tool Kits
Delivering Industrial Tools & Equipment Throughout Alaska and Beyond
Denali Industrial Supply is your one-stop shop for your entire list of tools, equipment, and industrial supplies for all major industries. We understand all the challenges and logistics of shipping throughout the
rural bush areas
of Alaska's interior. That is why we coordinate shipping for all our customers via our
Fairbanks
and
Anchorage
store locations.
Contact Denali Industrial Supply for Your Industrial Tool & Equipment Needs Today
From our facilities in Fairbanks and Anchorage, we supply a wide range of tools, equipment, fasteners, and industrial supplies to all major industries across Alaska. Whether your industry is construction, HVAC, mining, automotive repair, or oil and gas extraction supplies, Denali has you covered.
Contact us
today to learn more about our inventory and to find the right tool for your application.