Industrial Tool Supply Company Serving Anchorage, Alaska
For Greater Discounts
Request Custom Quote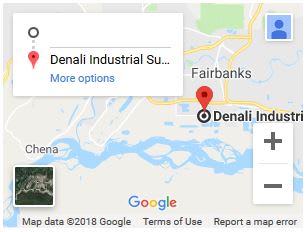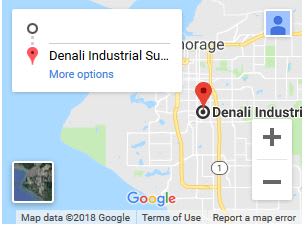 Denali Industrial supply is proud to serve all of Anchorage and the surrounding areas. We offer the best pricing and volume discounts on a wide range of industrial tools, fasteners, abrasives, electrical tools, material handling equipment, firestop products, dust control products and more. Denali is an industrial tool supply company that is 100% customer focused; your overall satisfaction is our highest priority. That is why we cater to a wide range of industries and offer in-store training seminars on several products we carry.
Industrial Tools for Anchorage and the Surrounding Areas
Denali Industrial Supply furnishes industrial tools, equipment and supplies to the industries of Anchorage, Alaska and the communities that surround it. As an industrial tool supply company, we feel it is necessary to provide only the finest quality electrical tools, fasteners, abrasives, material handling equipment,silica dust controlandfirestop productsthat can be found in all of Alaska. We proudly serve the following industries:
Construction
HVAC
Oil drilling
Welding
Building & maintenance
Natural gas extraction
Mining
Military contractors
And more
For exceptional reliability we only offer the best quality product brands on all our tools, fasteners, abrasives and all the other products that you need to cover your project requirement needs. Our dependable, advanced quality brands include: Makita, Ridgid, Milwaukee, DeWalt, Norton, Loctite and more. At Denali we offer the best pricing in the Anchorage area on all our reliable quality brands. We also feature volume discounts for added convenience. If you are looking for a good deal on the best quality brands, we can deliver.
Industrial Tool Supply & In-Store Training
At Denali Industrial supply we are pleased to offer advanced training classes to those in Anchorage, Alaska and the surrounding areas. Right now, we are providing in-store training for oursilica dust controlandfirestop products. Our firestop product line can add another layer of fire protection to any job. Additionally, our silica dust products meet all OSHA regulations.
Denali Industrial Tool Supply Customer Reviews
Here are some of the positive reviews that people in the Anchorage area have left regarding our industrial tools and supplies.
"These guys are the best. Denali provides me with all my fastener and tool related needs. If I know I have a big job on its way, I am always sure to swing by Denali to stock up on my supplies. Their associates are always super helpful and knowledgeable, thanks guys." 5 Star Rating– John K. (from Google)
"These guys are the best! I came in looking for a specific tool from a specific brand and within minutes they found it for me and I was out the door. Denali is my new go to place for my tool and fastener needs. Thank you!" 5 Star Rating– Luke H. (from Yelp)